Okinawa World(Limestone Cave)& War Memorial Sites
※ We have free pick up service for some hotel in Naha city.Please tell us your accommodation when you reservation
【 Important Notice to our Customers using Free E-Mail Services 】
Thank you for visiting our Okinawa Bus Homepage today.
Within recent days, we have been receiving increasingly inquiries from our customers who use free e-mail services such as Hotmail, Gmail, Yahoo Mail, etc. indicating that they have not received our reply messages. Once our company receives tour inquiries or reservation requests through our homepage, an automatic reply is sent. In addition we reply within 1 to 3 days to our customers' inquiries and reservations. We kindly request our customers who do not receive a reply from us to please check their spam folder and their settings. We apologize for the inconvenience.
We also suggest that our customers with e-mail accounts other than free e-mail accounts please send their reservation requests and other inquiries from those accounts. Thank you. Your understanding and cooperation in this regard are highly appreciated.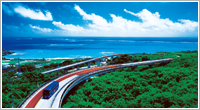 Nirai Kanai Bridge  (Scenery view from the bus window)
The bridge draws a large meander line with a total length of 660 meters. Nirai Bridge and Kanai Bridge are connected and this gives its name Nirai Kanai Bridge.
Its height is 80 meters, and you will be able to see a magnificent scenery when descending from the top of the bridge.
You can enjoy the scenery of Kudaka Island floating in the emerald green ocean and also you will be able to see Komaka Island.
※ Please note that there is not enough time to attend the guide lectures at 「Gyokusendo」「Tropical Fruit Garden」 and 「Ryukyu Kingdom Castle Town」
Okinawa World (Sightseeing duration about 100 minutes)
Tourist facilities where you can experience Okinawan nature, entertainment and its culture.
Gyokusendō Limestone Cave which is a mind-boggling natural creation of 300,000 years and said to be made of coral.
Gyokusendō caves have several types of stalactites with a variety of colors and shapes that are said to be the best in the world.
"Ryukyu Kingdom Castle Town" a beautiful townscape which has been designated tangible cultural national property.
You will be able to experience various traditional crafts making.
"Yellow-spotted pit viper Museum" with the theme of a poisonous snake that inhabits in Okinawa, and attractive Okinawan traditional folk performing arts such "Super Eisā" performed every day.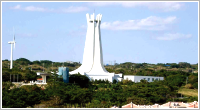 Okinawa Peace Memorial Park ・Cornerstone of Peace(Sightseeing duration about 50 minutes)
In order to convey "the wishful heart of peace" of Okinawa to the world, in 1995 prayers were offered at Mabuni Hill commemorating the 50th anniversary of the end of the battle of Okinawa. Monumental stones with all the victims' names engraved, without making any distinction among nationalities, soldiers or civilians, but including all the people who died during the war in Okinawa. However, it is not limited to those who died in Okinawa only, but dedicated to all those who have died in war.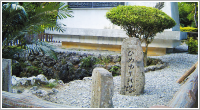 Himeyuri Monument (Himeyuri Peace Museum Optional) Yubido Restaurant(Lunch Venue)(Estimated time 80 minutes)
The Himeyuri students was a group of 320 students of the Okinawa Daiichi Women's High School and Okinawa Shihan Women's School formed into a nursing unit for the Haebaru Army Hospital during the Battle of Okinawa in March 1945. They continued to nursing activities in the narrow pits soak in the groundwater at all times. Girls of 17-18 years old kept working for several things such as burial of dead bodies and care of the meal. The Southward of troops gave rise to casualties amongst them.The cave beside the tower where it was the third surgery moat that was going south.
They cannot go out because of the besieging army, and those who want to self-determination, in a poison gas attack by the United States Army, life of about 200 people were deprived.
A war memorial for 211 students and 16 teachers.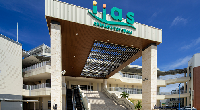 Iias Okinawa Toyosaki (Sightseeing time 80 minutes)
In June 2020 Japan's southernmost large shopping center opened.
There are more than 130 stores, including DMM Kariyushi Aquarium
and an indoor miniature theme park among other attractions.

* (Admission fee to Kariyushi Aquarium is not included.)
「Recommended points of Tour」
Picturesque and beautiful scenery in the south, Niraikanai Bridge (view from the bus window), Gyokusendo Caves, which boasts an outstanding natural beauty in the east, as well as the lively and magnificent Okinawan traditional folk performing arts "Eisā".

The Peace Memorial Park where you can visit Mabuni and see the inscriptions of those who died in the Battle of Okinawa.

Other historical places such as Himeyuri Memorial Monument.



Also enjoy shopping at Iias Okinawa Toyosaki, the southernmost large shopping center in Japan!


Sightseeing Day Tour A course Okinawa World and Battle Sites
Departure time
8:30 am
Time required
7 hours and 20 minutes
※Please be aware that the tour duration estimate time varies
depending on the traffic conditions.
Service day
The tour operates everyday.
The first Sunday of December there is no service due to Naha Marathon traffic restrictions.

Course map, click here
Fare
Adults
4,900 Yen
Child (6 years old-under 12 years old)
3,000 Yen
Infant (5 years old or under)
1 infant par adult is free of charge
Child fares for 2 infants or more are charged.
* Infants meals and entrance fees are charged.
4 to 5 years old children Okinawa World admission fee
will be charged
Includes Okinawa World admission fee and meal. However, entrance fees for the Okinawa Peace Memorial Museum and Himeyuri Museum are not included (Optional)

-Precautions-
【Regular Sightseeing Tour Bus · Tour Planned Services suspension】
Please understand that there might be cases when tour services will be suspended due to weather conditions (typhoon)  or other unforeseen circumstances. 
【Disclaimers】    
Our Company will not assume any responsibility/damage compensation in the following cases:
・Injury/Disease due to passenger's negligence at the tourist destinations.
・Actions that are or may be offensive to public order and morals.
・Damages that occur due to acts in which our company is not responsible.
*Please be aware that the return arrival time may vary due to delays caused by weather, traffic conditions or other unforeseen circumstances. We will not be held responsible for any delays.
*If you have a flight, we recommend to give yourself 2 hours extra time on the day of the tour.  If for any reason you miss the flight, we will not bear any responsibility. 
Thanks for your understanding and cooperation.