Usage guide of low-floor bus.
We recommend you to make a reservation in advance.
Okinawa Bus Ltd. introduces the low-floor bus, however it is just a part of the whole. 
You can get on the bus without reservation, however there is a limited space for a wheelchair.
There is a case that you cannot get on the bus because it already has a reservation or somebady
already gets on the bus with a wheelchair. We reccomend you to make a reservation for the
convenience of passanger.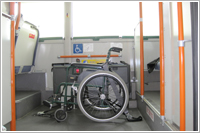 Wait for the bus at the bus stop and get on the bus.
The bus driver comfirms that you will get on the bus or not.
There is a case to comfirm that you have a reservation.
The driver gets ready for boarding, please follow a driver's guidance.
The driver gives you a number printed ticket and ask your destination.
※Regular senior car is not accepted  because it cannot move to space for a wheelchair and fix.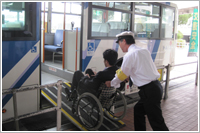 Fix the wheelchair
When you ride on the bus, we fix a wheelchair in the space.
Fixed the wheelchair is needed for your safety.
Please tell the driver which part of wheelchair is good to hook.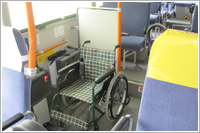 To get off the bus
Press a buzzer exclusive to a wheelchair to tell the driver that you would like to get off.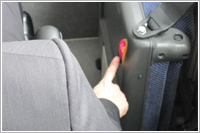 Get off the bus.
The driver helps you to get off the bus. Please give a number printer ticket and a fare to the driver. Thank you.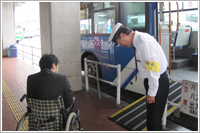 Introduction conditions of low-floor bus and Notes
Not introduced
・Route 111 & 117 Highway Bus
・Route 40 & 109 Ozato Line
・Route 127 Yakena line(Highway route)
All vehicles are introduced
・Route 65 & 66 Motobu peninsula line
・Route 67 Hentona Line
・Route 70  Bese Line
・Route 72 Yagaji Line
・Route 73 Kawata Line
・Route 76 Sesoko Line
・Route 78 Nago Toube Line
※Notes: Please understand that there is a case to operate the bus which is not low-floor bus because of a periodical inspection of a vehicle and break down.