Central Okinawa Popular Sites Tour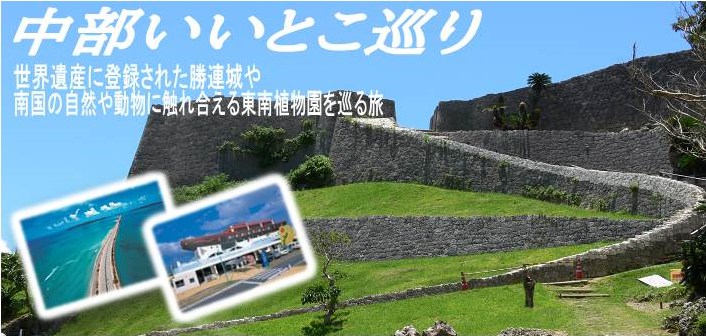 *Operating terms: The tour will be offered with a minimum of5 passengers or more, if the required number of passengers is not met, please note that the service will be canceled. We appreciate your understanding. ※We offer a free pick up service from some Naha City Hotels. Please let us know the hotel when you make your reservation. ※This course is offered during a limited period, from April 1st. to September 30th.
【 Important Notice to our Customers using Free E-Mail Services 】
Thank you for visiting our Okinawa Bus Homepage today.
Within recent days, we have been receiving increasingly inquiries from our customers who use free e-mail services such as Hotmail, Gmail, Yahoo Mail, etc. indicating that they have not received our reply messages. Once our company receives tour inquiries or reservation requests through our homepage, an automatic reply is sent. In addition we reply within 1 to 3 days to our customers' inquiries and reservations. We kindly request our customers who do not receive a reply from us to please check their spam folder and their settings. We apologize for the inconvenience.
We also suggest that our customers with e-mail accounts other than free e-mail accounts please send their reservation requests and other inquiries from those accounts. Thank you. Your understanding and cooperation in this regard are highly appreciated.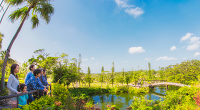 Southeast Botanical Gardens (Sightseeing duration about 60 Minutes)
You will be able to see tropical and subtropical plants collected from around the world, including palm trees, in an Okinawan natural environment (not in greenhouses) and besides you can observe and interact with various animals inside the park. You can also take a bus (additional charge) that operates inside the large garden, about a 20 minute ride.
Amawari Park・World Heritage Katsuren Castle (Sightseeing duration about 60 minutes)
Awari Park is a facility that passes on to the present day the culture and history of Katsuren Castle, World Heritage Site, and 15th century's Amawari.
A New Sense Museum ! The Live Theater is set up in the permanent exhibition room, where exhibits such as trade items excavated from prehistoric times are displayed. You can also enjoy a live performance that tells the story of Amawari.
Kimutaka: An ancient word found in Okinawa's oldest song collection book "Omorosaushi" that means "richness of spirit" "noble," "dignified" etc.
is used as a poetic name for Katsuren Castle, praising its high culture.
Here you can learn about the history of Katsuren Castle.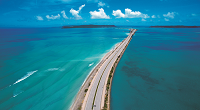 Kaichu Doro (Road in the middle of the Sea - View from the bus)
For those who would like to enjoy a beautiful sea to each side while driving in Okinawa, the Road in the middle of the Sea is perfect, a perfect driving course with an emerald blue sea view spreading to the left and the right of the road. You can enjoy its marvelous beauty from the bus window.
Ayahashi Hall Sea Station (Sightseeing duration about 40 minutes)
Ayahashi Hall Sea Station is located in the middle of Kaichu Doro Bridge and it offers local souvenirs that can only be found at this location. At the second floor from the Sea Culture Museum and the rooftop deck you can overlook Kin Bay (Kinwan ) enjoying a sea view which is highly transparent where the blue world looks even brighter! At least once a visit to this place is a must ♪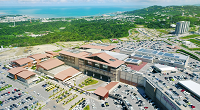 Aeon Mall Okinawa Rycom (Sightseeing duration about 100 minutes)
Aeon Mall Okinawa Rycom is a large "Shopping Mall" located in the central part of Okinawa Prefecture. Approximately 230 stores are gathered on this vast site, offering Okinawan brands and famous brands, also there are food courts. You can enjoy lunch time here and also shopping for souvenirs. Enjoy leisure time at Aeon Mall Okinawa Rycom!


「Recommended points of Tour」
As its name suggests, it is an excellent bus tour full of impressive sightseeing spots and attractions in the Central Part of Okinawa.
Central Okinawa Popular Sites Tour
Departure time
8:45 am
Time required
7 hours.
※Please be aware that the tour duration time might vary depending on traffic conditions. We highly appreciate your understanding.

Service day
Limited Period from April 1st. through September 30th. (Operating everyday)
※There is no service from October 1st. through March 31st.
Course map, click here
Fare
Adults
5,000 Yen
Child (6 years old-under 12 years old)
4,500 Yen
Infant (5 years old or under)
Free of charge for one infant. For the second infant, child fee will be charged.
※Tour fare includes the admission fee for Southeast Botanical Gardens.
(Lunch fee is not included)
-Precautions-
【Regular Sightseeing Tour Bus · Tour Planned Services suspension】
Please understand that there might be cases when tour services will be suspended due to weather conditions (typhoon)  or other unforeseen circumstances.
【Disclaimers】
Our Company will not assume any responsibility/damage compensation in the following cases:
・Injury/Disease due to passenger's negligence at the tourist destinations.
・Actions that are or may be offensive to public order and morals.
・Damages that occur due to acts in which our company is not responsible.
*Please be aware that the return arrival time may vary due to delays caused by weather, traffic conditions or other unforeseen circumstances. We will not be held responsible for any delays.
*If you have a flight, we recommend to give yourself 2 hours extra time on the day of the tour.  If for any reason you miss the flight, we will not bear any responsibility.
Thanks for your understanding and cooperation.