Churaumi Aquarium & Nakijin Castle Ruins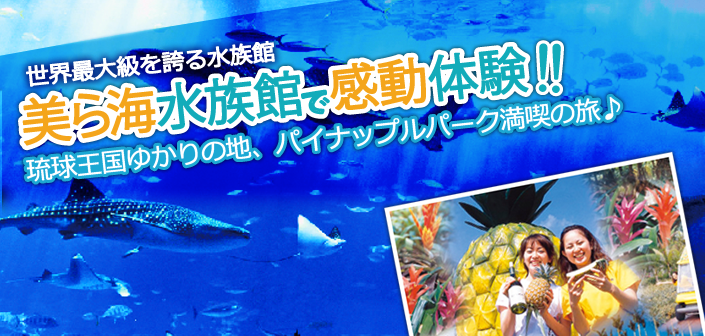 ※ We offer a free pick up service from some Naha City Hotels. Please let us know the hotel when you make your reservation.
※ From April 1st. 2018 the departure time is 8:30 am
※ The time of the tour itinerary is subject to changes depending on traffic conditions or other unforeseen circumstances. When making your tour reservation, we advise to our passengers with flight reservations to plan the trip with at least two hours extra, in order to arrive on time to the airport. We will not be held responsible for any delays due to traffic or weather conditions or delays caused by other passengers.
【 Important Notice to our Customers using Free E-Mail Services 】
Thank you for visiting our Okinawa Bus Homepage today.
Within recent days, we have been receiving increasingly inquiries from our customers who use free e-mail services such as Hotmail, Gmail, Yahoo Mail, etc. indicating that they have not received our reply messages. Once our company receives tour inquiries or reservation requests through our homepage, an automatic reply is sent. In addition we reply within 1 to 3 days to our customers' inquiries and reservations. We kindly request our customers who do not receive a reply from us to please check their spam folder and their settings. We apologize for the inconvenience.
We also suggest that our customers with e-mail accounts other than free e-mail accounts please send their reservation requests and other inquiries from those accounts. Thank you. Your understanding and cooperation in this regard are highly appreciated.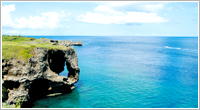 Cape Manzamo (Sightseeing duration about 40 minutes)
In the 18th century, when Shō Kei, the King of the Ryukyu Kingdom was given an inspection tour to Kunigami and visited Manza Cape, he was told
"It is wide enough for all (thousands of people) to sit and relax" and because of that he gave Manzamo its name. 「Man nin」"" means " all people ", "Mo" means open space, field in Okinawan dialect.
As its name suggests, the steepened cliff of protuberant coral reefs where a green fur carpet spreads like a natural grass lawn with a dazzling view of emerald ocean. Cape Manza is designated as a scenic spot in the prefecture due to its magnificent beauty.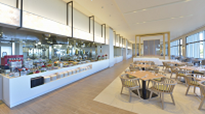 Motobu Orion Resort & Spa ( 60 minutes )
This is the lunch venue, located near Okinawa Churaumi Aquarium.
A delicious lunch, all you can eat!
You can order anything from the menu while enjoying
a beautiful blue ocean view and Ie Island view.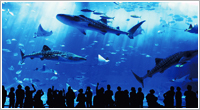 Ocean Expo Park ・ Okinawa Churaumi Aquarium ( Sightseeing duration about 130 minutes )
The Aquarium spreads like a dynamic marine world, appearing as a part that belongs to the Okinawan Ocean.

You will be able to see the world's first living coral large-scale breeding, and through the world's largest acrylic panel the world's first whale shark and multiple breeding of manta rays. You will also enjoy the 「Dolphin Lagoon」「Okichan Theater」 Dolphin Show, 「Sea Turtle Pool」 and 「 Manatee Pool」 in the area around the aquarium. (Free admission fee to the pools)
Okinawa Churaumi Aquarium's fee is not included in the fare. This is optional.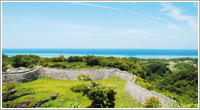 Nakijin Castle Ruins (Sightseeing duration about 50 minutes)
Nakijin Castle was used to beHokuzan Kingdom Feudal Lord's castle, however it was conquered by King Sho Hashi of Chuzan in 1416.
During the 1609 Satsuma invasion of the Ryukyus, much of the castle was burnt to ashes. The site remained a spiritual center for the people of Okinawa's prayers and festivities. The castle wall draws a gentle curve which length is 1500 meters that reminds The Great Wall of China.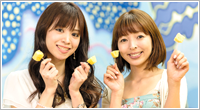 Nago Pineapple Park (Sightseeing duration 40 minutes)
"Nago Pineapple Park" is a place that definitely you would like to visit at least once. The theme of this place is related to pineapple, here you can find anything about pineapples, eating, drinking and plentifully enjoying the Okinawan Pineapple.

This is Japan's first pineapple winery.

You will see a vast pineapple field and also rare Okinawan plants
「Recommended points of Tour」
Recommended Tour spots


You will enjoy one of the largest Aquariums in the world, Cape Manza which is a place related to the Ryukyu Dynasty, and Nakijin Castle Ruins (World Heritage Site)
Sightseein Day Tour B Course Okinawa Churaumi Aquarium
Departure time
8:30 am
Time required
10 hours
※Please be aware that the tour duration estimate time varies
depending on the traffic conditions.
Service day
Every day of the year.  
※Ocean Expo Memorial Park will be closed on the First Wednesday and Thursday of December, so there will be a substitute tour in operation.
Course map, click here
Fare
Adults
7,300yen

Child (6 years old-under 12 years old)
3,800yen
Infant (5 years old or under)
1 infant per adult is free of charge
Fares for 2 infants or more are charged.

※ 4~5 years old Infatns' meals and entrance fees are charged.
※ Nakijin Castle Ruins entrance fee and meal are included. However, Churaumi Aquarium entrance fee is not included. Thanks for your understanding.

-Precautions-
【Regular Sightseeing Tour Bus · Tour Planned Services suspension】
Please understand that there might be cases when tour services will be suspended due to weather conditions (typhoon)  or other unforeseen circumstances. 
【Disclaimers】    
Our Company will not assume any responsibility/damage compensation in the following cases:
・Injury/Disease due to passenger's negligence at the tourist destinations.
・Actions that are or may be offensive to public order and morals.
・Damages that occur due to acts in which our company is not responsible.
*Please be aware that the return arrival time may vary due to delays caused by weather, traffic conditions or other unforeseen circumstances. We will not be held responsible for any delays.
*If you have a flight, we recommend to give yourself 2 hours extra time on the day of the tour.  If for any reason you miss the flight, we will not bear any responsibility. 
Thanks for your understanding and cooperation.