recruit
Bus Driver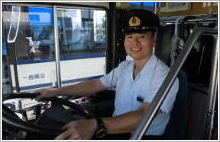 Proffesional drivers support publick transpotation
Bus is familir means of transportation for commute work and school, daily shopping and go out on 
holiday. The driver's mission is to send passangers to their destination safety and confortably.
The inportance and neccesity of bus transpotation are recognized by everybody because this job 
make a great contribution to community. The drive ability to prevent accident, and the skills for 
customer service and communication that are needed. However, a sense of fulfillment and 
achievement make you to feel preasure that gives you a proud and a worthwhile as a driver. 
We are waiting for person who flourish with us as a bearer of public transpotation.
Bus guide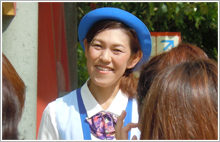 Support unforgettable trip with the spirit of hospitality
The bus guide derects fun tour for school tour or group tour. It is a regular job to known
that they have smart manners and bright smile, however they are needed to have knowledge of 
cultural tourism and historical geography, and skills for communication. You feel preasure when
the customer say "It was fun, thank you".You realize your self‐propagating through meeting with
various customers. Please feel this impresstion of this job.
We do not recruit it anymore
Mechanic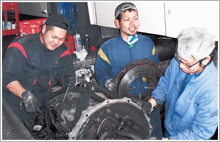 The mission of the mechanic is supporting safety operation
The bus keep moving with passangers through early morning to middle of the night. 
The vehicle maintenance by mechanic is necessary to promiss for safety and confortably. 
We look for an expert of mechanisc to support "safety and comfortable transpotation service". Mechanic is needed wealth of experience and advanced technology, however demonstrate
We do not recruit it anymore
Office job, part time job, and others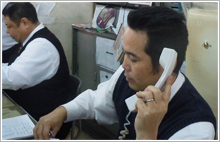 Every work of Okinawa bus is chance to be successful.
There is not only driver and bus guide for job of Okinawa bus. Employees take part in many kinds of
work such as mission-critical task for management, sightseeing business, real estate business, 
general affairs and accounting are flourishing with their knowledge and skills. 
Management environment surrounding the bus business is harsh conditions, the stuff of bus 
transpotation is decreasing nationally, however we have a responsibility and pround of business
that support public transpotation. We are looking for a person who is full of a fighting spiritcan and 
challenge a new things to create bus company in new era regardless of old business model.
We do not recruit it anymore