Churaumi Aquarium & Nakijinjo Ruins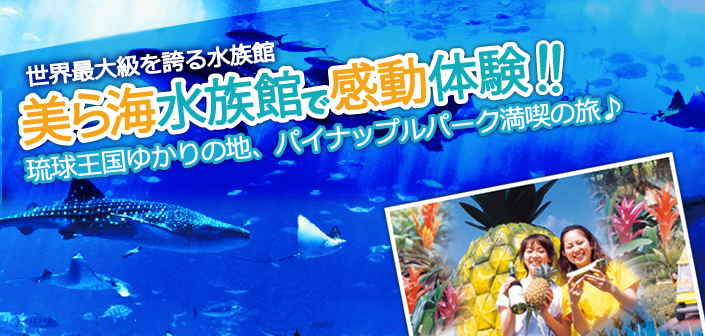 ※ We have free pick up service for some hotel in Naha city.Please tell us your accommodation when you reservation
※ From April 1st., 2018 the departure time will change to 8:30 am
※ The time of the tour itinerary is subject to changes depending on traffic conditions or other unforeseen circumstances. When making your tour reservation, we advise to our passengers with flight reservations to plan the trip with at least two hours extra, in order to arrive on time to the airport. We will not be held responsible for any delays due to traffic or weather conditions or delays caused by other passengers.
【 Important Notice to our Customers using Free E-Mail Services 】
Thank you for visiting our Okinawa Bus Homepage today.
Within recent days, we have been receiving increasingly inquiries from our customers who use free e-mail services such as Hotmail, Gmail, Yahoo Mail, etc. indicating that they have not received our reply messages. Once our company receives tour inquiries or reservation requests through our homepage, an automatic reply is sent. In addition we reply within 1 to 3 days to our customers' inquiries and reservations. We kindly request our customers who do not receive a reply from us to please check their spam folder and their settings. We apologize for the inconvenience.
We also suggest that our customers with e-mail accounts other than free e-mail accounts please send their reservation requests and other inquiries from those accounts. Thank you. Your understanding and cooperation in this regard are highly appreciated.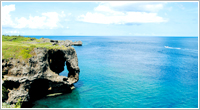 Cape Manza (staying about 20 min)
When King Sho Kei visited Cape Manze in the biginning of the eighteen cenutry, he praised this place as "It is a really spacious place that all Okinawan is able to relax at here." 「毛」 means the field in the vernacular. Natural grass is spread on a surface, plant colonies around it, has been designated as Prefectural Scenic Beauty.
Wild waves beating a cliff of the upheaved coral reef, view that is open to the sea of emerald, that shows the majestic beauty.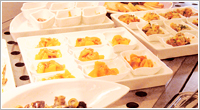 Centurion Hotel Resort vintage Okinawa Churaumi( staying about 40 min)
It is located at next to Churaumi Aquarium. There is a lunch buffet includes about thirty kinds of dishes with overlooking a view of the blue ocean and Ie Island.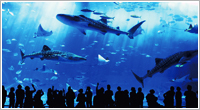 Ocean Expo Park ・Okinawa Churaumi Aquarium ( staying about 135 min)
The Aquarium is a vast dynamic world of migratory fish. Such large-scale cultivation of coral has been made. The AquariumOnly here you can enjoy the sight of never-before-seen groups of whale sharks and manta rays swimming in the ocean through the large acrylic window. There are "Dolphin Lagoon", Okichan theater"(Dolphin Show), " Sea Turtle Pool" and "Matatee Pool" in the area around the aquarium with admission free.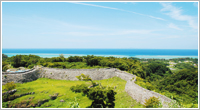 Nakijin Castle (Gusuku)(staying about 50 min)
Nakijin Castle was used to be a castle of feudal lord of the Hokuzan Kingdom, however, conquered by King Sho Hashi of Chuzan in 1416. During the 1609 Satsuma invasion of the Ryukyus, much of the gusuku was burnt to ashes. The site remained a spiritual center for the people of Okinawa. The castle wall describe a curve which length is 4921ft that reminds The Great Wall of China.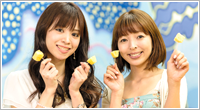 Nago Pineapple Park(staying about 45 min)
Want to visit at least once "Nago Pineapple Park".The Nago Pineapple Park has anything about pineapple. You can enjoy a Okinawan pineapple to see it, eat it and drink it. There is a pineapple winery, all you can eat pineapple and a large pineapple field. You can also found many strange plants.
「Recommended points of Tour」
You will enjoy the one of the largest Aquarium in the world, Cape Manza is a place noted in connection with the Ryukyu Dynasty, and Nakijin Castle.
Sightseein Day Tour B Course Okinawa Churaumi Aquarium
Departure time
Departs at 8:45 until March 31, 2018
Departs at 8:30 minutes from April 1, 2018
Time required
9 hours 15 minutes till March 31, 2018
9 hours 30 minutes from April 1, 2018
※Please understand that the time required back and forth depending on traffic.
Service day
Every day of the year.  
※Okinawa Churaumi Aquarium is closed on the first Wednesday on December and the next day Thursday. We will change the course on the day.
Course map, click here
Fare
Adults
5,500 yen
*5,400 yen until March 31, 2014
Child (6 years old-under 12 years old)
3,300 yen
*3,250 yen until March 31, 2014
Infant (5 years old or under)
Free for a infant. Child fee for second infant.
※Tour fare includes an admission fee of Nakijin Castle and cost of a meal. It dose not include admission fee of Okinawa Churaumi Aquarium.
-Precautions-
【Suspended services of sightseeing day tour and package tour.】
Please understand that there is a case to suspend services of tour because of the wether (typhoon) or other reasons.
【Disclaimers】
We do not compensate you for damages  with the following case.
・The disease and injury due to negligence of the customer at the place you get off for sightseeing.
・Acts that violate public decency.
・The damage caused by transportation or blame other than ourselves.
※There is the case that a del
※Please notice that we may not service and not able to come back on time depending on the traffic situation.
  If you have a flight on the day tour, please give yourself for 2hours extra time when you join our tour.
  If you missed the bus, we will not bear any responsibility.
  Thank you for your understanding.