Churaumi Aquarium & Kouri Ocean Tower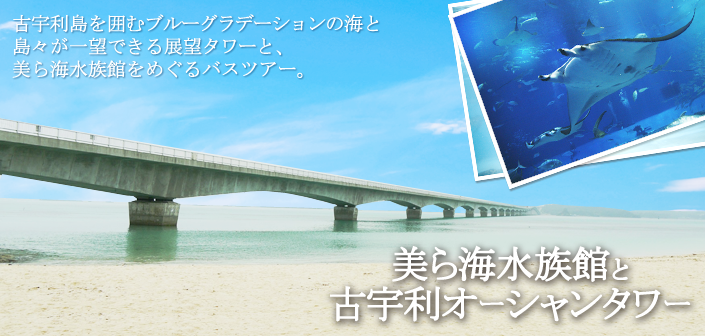 ※ We offer a free pick up service from some Naha City Hotels. Please let us know the hotel when you make your reservation. ※ This course is offered during a limited period, from April 1st. to September 30th.
【 Important Notice to our Customers using Free E-Mail Services 】
Thank you for visiting our Okinawa Bus Homepage today.
Within recent days, we have been receiving increasingly inquiries from our customers who use free e-mail services such as Hotmail, Gmail, Yahoo Mail, etc. indicating that they have not received our reply messages. Once our company receives tour inquiries or reservation requests through our homepage, an automatic reply is sent. In addition we reply within 1 to 3 days to our customers' inquiries and reservations. We kindly request our customers who do not receive a reply from us to please check their spam folder and their settings. We apologize for the inconvenience.
We also suggest that our customers with e-mail accounts other than free e-mail accounts please send their reservation requests and other inquiries from those accounts. Thank you. Your understanding and cooperation in this regard are highly appreciated.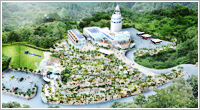 Kouri Ocean Tower(Sightseeing duration about 50 minutes)
From the Tower you can enjoy a magnificent panoramic view of a high degree ocean transparency with gradations of blue and emerald green that surrounds Kouri Island, you can also see other islands from the observatory.
You will be able to enjoy exhibits of more than 10,000 world shells and Kouri Island's original goods and sweets.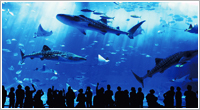 Ocean Expo Park ・ Okinawa Churaumi Aquarium)(Sightseeing duration about 210 minutes)
Natural Light shines through the corals and tropical fish in the aquarium.
From "Kuroshio Sea" to the mysterious deep ocean where whale sharks, manta rays and other fish live and swarm, you will have the sensation as if you were diving in the Sea of Okinawa. You will be able to see the world's first whale shark and multiple breeding of manta rays through one of the world's largest acrylic panels.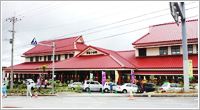 Okashi Goten Nago Shop(Sightseeing duration about 30 minutes)
It is a new Yanbaru's landmark produced by Okashi Goten.
Yanbaru Resting Forest is the largest in Japan with the largest native forest of Flying Spider-monkey Tree Fern. You can enjoy Okinawa's various unique creatures and colorful flowers in the forest.
In Okashi Goten you will find many sweets such as "Original Purple Yam Tart."
「Recommended points of Tour」
You will enjoy one of the largest Aquariums in the world and a magnificent panoramic view of a high degree ocean transparency with gradations of blue and emerald green that surrounds Kouri Island.
Package Tour Okinawa Churaumi Aquarium & Kouri Ocean Tower
Departure time
9:00
Time required
10hours.
Service day
Time Limited: Everyday from April 1st through September 30th
※We do not do service from October 1st through March 31st.
Course map, click here
Fare
Adults
5,500 Yen
Child (6 years old-under 12 years old)
2,700 Yen
Infant (5 years old or under)
Free for a infant. Child fee for second infant.
※Tour fare includes an admission fee of Okinawa Churaumi Aquarium and Kouri Ocean Tower.
-Precautions-
【Suspended services of sightseeing day tour and package tour.】
Please understand that there is a case to suspend services of tour because of the wether (typhoon) or other reasons.
【Disclaimers】
We do not compensate you for damages  with the following case.
・The disease and injury due to negligence of the customer at the place you get off for sightseeing.
・Acts that violate public decency.
・The damage caused by transportation or blame other than ourselves.
※There is the case that a delay occurs by road conditions.
※Please notice that we may not service and not able to come back on time depending on the traffic situation.
  If you have a flight on the day tour, please give yourself for 2hours extra time when you join our tour.
  If you missed the bus, we will not bear any responsibility.
  Thank you for your understanding.