Churaumi Aquarium & Kouri Ocean Tower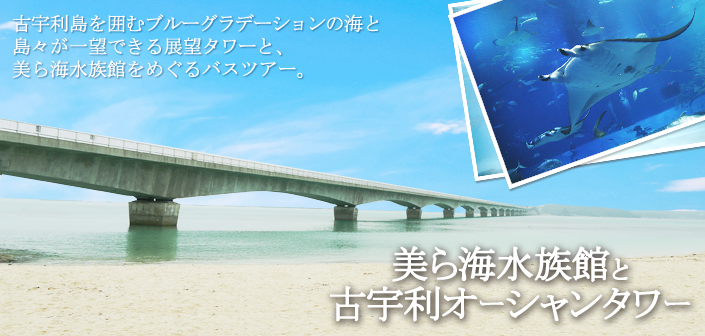 ※ We have free pick up service for some hotel in Naha city.Please tell us your accommodation when you reservation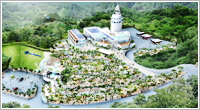 Kouri Ocean Tower(staying about 50 min)
The ocean with gradation of high transparent blue and emerald green surrounds Kouri Island, a observation tower to see whole Islands. You can enjoy the displays of more than ten thousand world shellfishes, Kouri original general goods and sweets.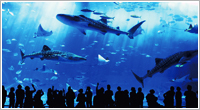 Ocean Expo Park ・Okinawa Churaumi Aquarium(The Okinawa Churaumi Aquarium) (staying about 210 min)
Nature light is shining in the fish tank with a coral and a tropical fish, whale sharks and manta rays that live in "the Kuroshio sea", you can have a look around it like you dive into the deep mysterious sea of Okinawa. Only here you can enjoy the sight of never-before-seen groups of whale sharks and manta rays swimming in the ocean through the large acrylic window.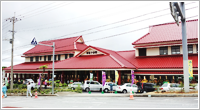 Yanbaru Ikoi no Mori (forest of relaxation)(staying about 30 min)
It is a new places of interest that was produced by Okashigoten. Yanbaru Ikoi no Mori has the largest virgin forest of Flying Spider-monkey Tree Fern in Japan. You can enjoy the Okinawa's various forms of life and colorful flowers in Yanbaru Ikoi no Mori. There are many sweets such as "Original Purpleyam Tart."
「Recommended points of Tour」
You will enjoy the one of the largest Aquarium in the world and a magnificent view of emerald green from Kouri island.
Package Tour Okinawa Churaumi Aquarium & Kouri Ocean Tower
Departure time
9:00
Time required
10hours.
Service day
Time Limited: Everyday from April 1st through September 30th
※We do not do service from October 1st through March 31st.
Course map, click here
Fare
Adults
5,000 Yen
Child (6 years old-under 12 years old)
2,500 Yen
Infant (5 years old or under)
Free for a infant. Child fee for second infant.
※Tour fare includes an admission fee of Okinawa Churaumi Aquarium and Kouri Ocean Tower.
-Precautions-
【Suspended services of sightseeing day tour and package tour.】
Please understand that there is a case to suspend services of tour because of the wether (typhoon) or other reasons.
【Disclaimers】
We do not compensate you for damages  with the following case.
・The disease and injury due to negligence of the customer at the place you get off for sightseeing.
・Acts that violate public decency.
・The damage caused by transportation or blame other than ourselves.
※There is the case that a delay occurs by road conditions.
※Please notice that we may not service and not able to come back on time depending on the traffic situation.
  If you have a flight on the day tour, please give yourself for 2hours extra time when you join our tour.
  If you missed the bus, we will not bear any responsibility.
  Thank you for your understanding.